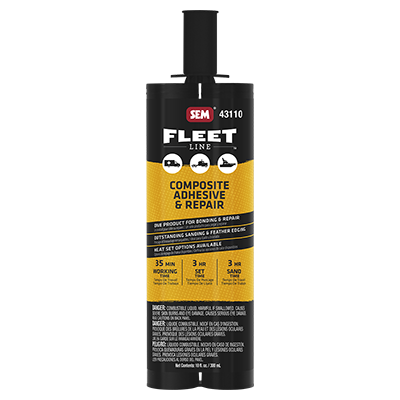 Find A Distributor
View Resources
Fleet Line™ Composite Adhesive & Repair
A two-component, fiber-enriched, epoxy used for bonding and/or cosmetic repair of composite plastics, such as SMC, fiberglass, and carbon fiber as well as Metton® and other rigid plastics. Fleet Line™ Composite Adhesive & Repair is discontinued and superseded by Dual-Mix™ Rigid Plastic Repair Material, effective June 2019.
Features
One product for bonding and repair
Exceptional bonding strength
Outstanding sanding and feather edging
Air, curing lamp and booth cure options
Fiber-enriched formula helps control swelling and halos
Easy to dispense and spread
More Features
Fleet Line™ Composite Adhesive & Repair
Part #43110
Applications
SMC
Fiberglass
Carbon fiber
Metton®
Other rigid plastics
Metton is a registered trademark of Metton America, Inc.
Properties
Working Time: 35 Min
Set Time: 3 Hr
Sand Time:
With Air Dry: 3 Hr
With Paint Booth: 30 Min
With Heat Lamp: 10 Min