sops/videos/literature
Use SEM's SOPs to ensure consistent, professional quality results on a variety of repairs. The right SOPs are proven to reduce cycle time and increase throughput.
sds/tds resources
To download SDS or TDS sheets, enter a part number or select a document from the drop-down
Training
Nationally renowned for best in class instruction, SEM's exceptional team trains hundreds of technicians and distributors on the latest automotive repair and refinishing techniques every year.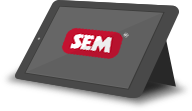 Learn More
voc rules
Always check your local VOC regulations to ensure product compliance. For your convenience, you can download a quick VOC reference for SEM Products by location.
Formulas
Discover every formula to custom match Color Coat™, Classic Coat™, Bumper Coater™, and Vinyl Coat™.
Learn More