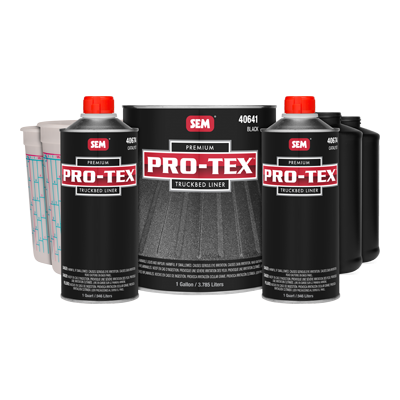 Find A Distributor
View Resources
Pro-Tex™ Truckbed Liner Kits
Pro-Tex™ Truckbed Liner is a professional, two-component, urethane liner system that provides a hard, durable finish and superior protection to truckbeds and equipment.
Now available in 5 and 54-gallon drums.
Features
Tough, durable, non-corrosive coating
Air and water tight
Tintable version to match OEM colors; including true white
Outstanding chemical resistance
Bonds to most surfaces
Resists fading
Excellent sound dampening
No maintenance
More Features
Applications
Steel
Aluminum
Concrete
Wood
Fiberglass
SMC
Existing OEM paint
Properties
Black or tintable
Contains one gallon Pro-Tex, two quarts Catalyst, two plastic schutz bottles and two paint mixing pails
Gallon coverage: 125 sq. ft.