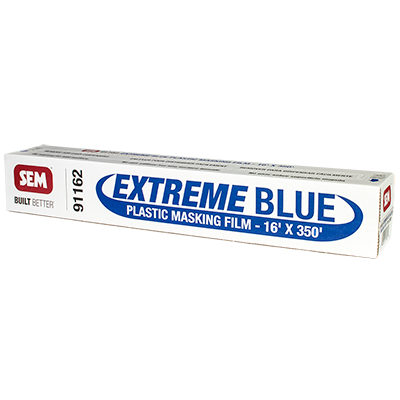 Find A Distributor
View Resources
Extreme Blue Plastic Masking Film
Extreme Blue Plastic Masking Film is a transparent blue, multi-layer, paintable plastic masking film that clings to substrates for protecting surfaces from overspray and other contaminants.
Features
Transparent blue
Multi-layer film for tear resistance
Exceptional adhesion of waterborne and solvent coatings
Specialty treatment for top coat adhesion
Clings to substrate
Solvent resistant and prevents bleed-through
Easy to dispense box
More Features
Applications
Any clean, dry surfaces or thoroughly cured finishes
Properties
Transparent blue
Available in 16' x 350' or 20' x 350'
Colors & Sizes Search
Extreme Blue Plastic Masking Film
Sorry, no results found for "." Please edit your search term and try again.
View All Colors & Sizes