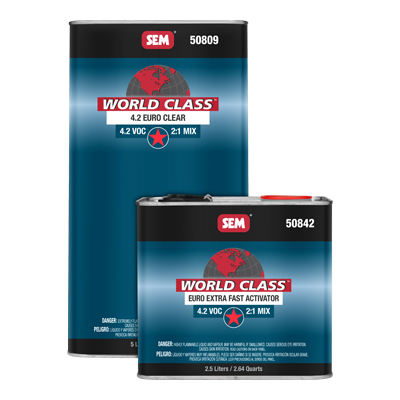 Find A Distributor
View Resources
World Class™ 4.2 VOC Euro Clear
World Class 4.2 VOC Euro Clear is a high quality, national rule, two-component urethane clearcoat for productive collision shops.
Features
24 Month Warranty
4.2 VOC
Excellent flow and leveling
Exceptional gloss and DOI
Chemical resistant
Easy to buff
Excellent UV protection
4 activator speeds
More Features
World Class™ 4.2 VOC Euro Clear
Part #50842 - Discontinued
Applications
All automotive basecoat paint systems
Fully cured refinish materials
Properly prepped OEM finishes
Properties
5 Liters
Coverage: 255 sq.ft./gal @ 2+ mils DFT
Coats: 2 full wet
Flash time: 5-10 minutes between coats
Colors & Sizes Search
World Class™ 4.2 VOC Euro Clear
Sorry, no results found for "." Please edit your search term and try again.
View All Colors & Sizes