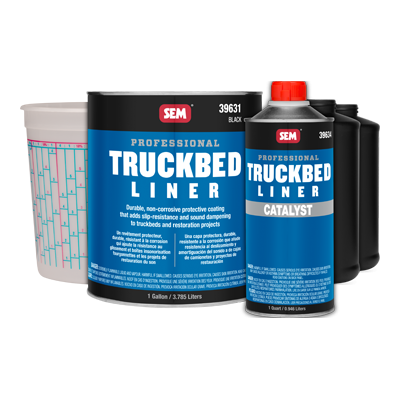 Find A Distributor
View Resources
Truckbed Liner Kits
Truckbed Liner is a two-component, urethane, textured coating that provides superior adhesion, film build and flexibility to truckbeds and restoration projects.
Features
Durable, slip resistant, non-corrosive coating
Outstanding adhesion and chemical resistance
Will not fade
Bonds to most surfaces
Tintable version to match OEM colors
Sound dampening properties
Air and water tight
More Features
Applications
Steel
Aluminum
Concrete
Wood
Fiberglass
SMC
Existing OEM Paint
Properties
Black or Tintable kits
Contains: 1 gallon Truckbed Liner, 1 quart Catalyst, two Schutz cans and 1 paint mixing pail
Coverage: 125 sq. ft./gallon
Safety Data Sheet Search
Sorry, no results found for "." Please edit your search term and try again.
View All SDS