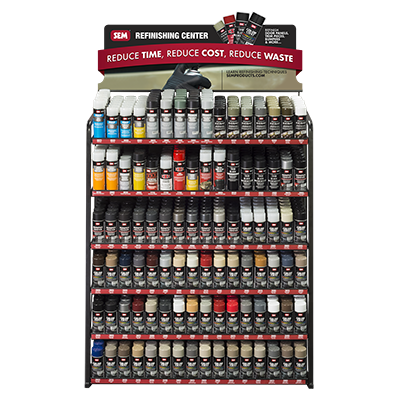 Find A Distributor
View Resources
Refinishing Center
The 40032 Refinishing Center is a jobber's best selling, lowest paid salesperson.
Attract more customers and generate additional revenue with SEM's Refinishing Center of professional aerosols.
Purchase includes one of each of the products below.
Features
Stock taller 20 oz. cans for bigger jobs and more sales
Includes strips to help your best customers find what they need fast
Eye-catching design holds up to 576 cans for fast sales
Features our most popular products to drive immediate sales
Includes a full set of 96 aerosols with each display
More Features
Applications
Displays SEM's most popular aerosol products
Properties
Height: 82.5" with header
Width: 48.75"
Depth: 19.75"
Capacity: 576 aerosol cans
Colors & Sizes
Sorry, no results found for "." Please edit your search term and try again.