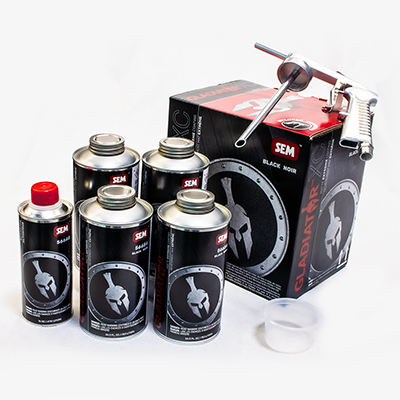 Find A Distributor
View Resources
Gladiator XC
Gladiator XC is a high quality, 2K urethane, texture coating that provides a durable, chemical and fade resistant protective coating for truck beds, recreational vehicles, industrial equipment, restoration and more.
Truckbed Kits include 4 short-filled quarts of product, 1 pint of activator, 1 Economy Coating Gun, 1 mixing cup.
Features
• Tough, durable, matte finish
• 2K coating
• Excellent fade resistance and UV stability
• T3 True Tint TechnologyTM--non-yellowing formula
• Produce a variety of textures with Economy Coating Gun, HVLP gun< roller or brush
• Outstanding adhesion to most surfaces
APPLICATIONS
Truckbeds
Off Road Vehicles
Trailers
Farm Equipment
Industrial and Commercial Vehicles
Marine (above the waterline)
Recreation Vehicles
Golf Carts
and much more!
More Features