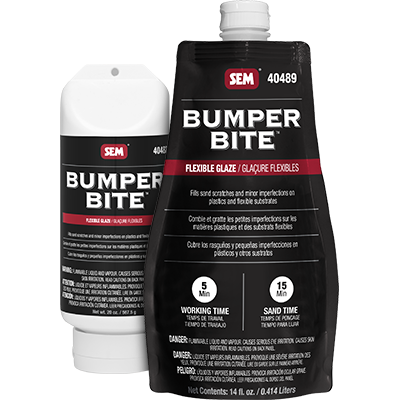 Find A Distributor
View Resources
Bumper Bite™ Flexible Glaze
Bumper Bite™ is a two-component flexible polyester filler that quickly fills sand scratches, pinholes, and other minor imperfections on many automotive substrates. Purchase includes one tube of blue cream hardener.
Features
Extremely flexible for enhanced resistance against cracking
Fast drying to a tack-free finish
Superior sanding qualities extend life of sandpaper
Can be applied over properly prepped OE paint
Excellent adhesion
More Features
Applications
Plastic
Aluminum
Steel
SMC
Fiberglass
Properties
16 oz. tube or 14 fl. oz. pouch
Light blue
Working Time: 4-7 min. @ 100 grams
Sand Time: 10-15 min.